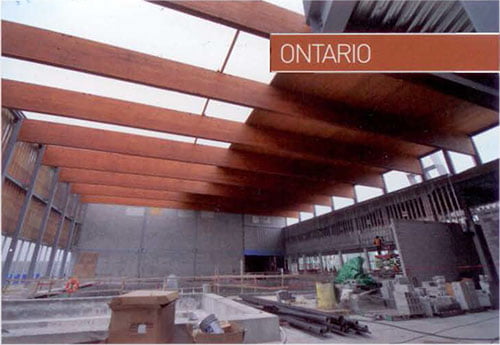 The incorporation of a CLT roof system is thought to be the first commercial use of CLT in Ontario. Cross-laminated timber panels (CLT) and re-used glulam roof beams were used to construct the roof system over the new pool area The project design team made the decision to incorporate wood for many compelling reasons
-PAUL MARCOCCIA – CS&P
Why did you consider wood for this building?
"Wood was used at various locations throughout the building to add a level of warmth and richness. The glulam roof beams within the new 25 m pool were originally located within the hockey rink which Wayne Gretzky had played on as a youth. This hockey rink, located on the project site, was demolished as part of the first phase of construction activity for the new Wayne Gretzky Sports Centre (WGSC) project as part of our strategy to adhere to sustainable design principles and preserve an important component of this historically significant original building, it was decided that these existing glulam roof beams would be salvaged and refinished for use in the new building"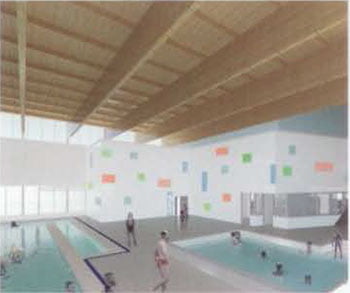 What was the motivation to use CLT in particular?
The use of CLT roof panels had a positive impact on both the project budget and on the project construction schedule at least two weeks of time was saved by installing CLT roof panels in lieu of traditional timber decking over the entire pool roof The CLT panels were stained to a color selected to integrate with the color of the glulam roof beams which meant the overall roof system color could be coordinated with a high degree of certainty to the final finish result .
DAVID MOSES- MOSES STRUCTURAL ENGINEERS
Is sustainability a motivational factor to use CLT panels in construction?
Definitely. I look at CLT as another tool my belt when I want a renewable material that sequesters carbon CLT is a wood product and makes complete sense in a country like Canada where our forests are sustainably harvested.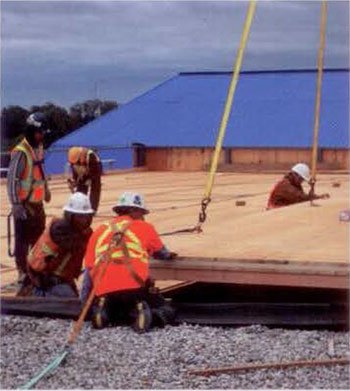 Does CLT contribute to increased energy efficiency? (If yes, can you cite specific examples in the case of the Wayne Gretzky project?)
CLT is manufactured to tight tolerances in the factory under higher quality control compared to site fabrication of conventional materials. This means that the building fits together much tighter. Tighter fit makes for lighter building envelopes, which are required for energy efficiency.
Perhaps even more importantly, the question about energy should consider the amount of energy that is used in the materials with which we build where CLT shines is in the storage of carbon and by the low amount of energy required to harvest, manufacture and install the panels the so called embodied energy' of our buildings accounts for a significant amount of the total energy used by a building over its lifetime in our practice, we view CLT as a very adaptable structural material. We are using it in conjunction with all other building materials – steel, concrete, masonry and wood framing – and in each case it helps to offset or reduce the embodied energy of other materials being used in the building since CLT panels are screwed into place they lend themselves to disassembly and re-use in the future